2019 Guest Chefs and Speakers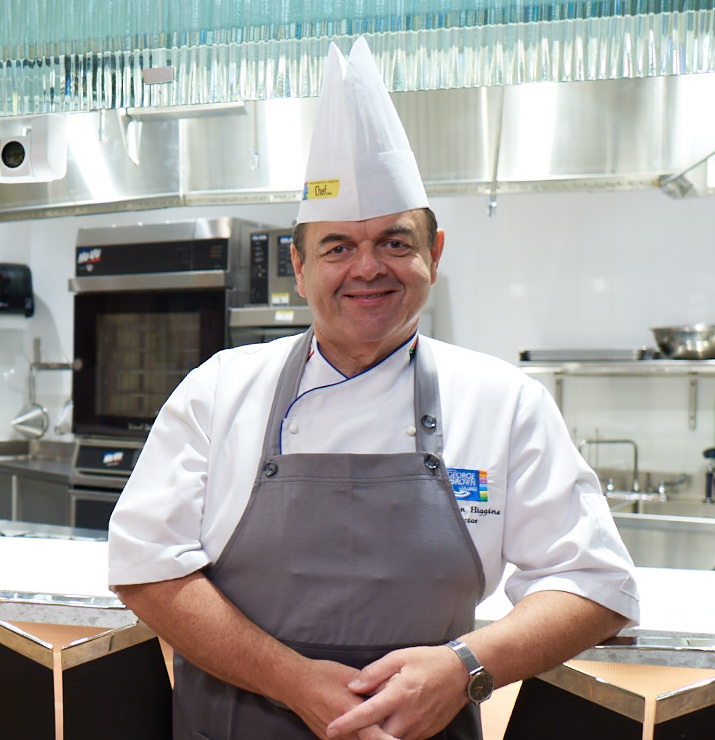 John Higgins
Chef John Higgins has cooked for the Queen at Buckingham Palace, on the Royal Yacht Britannia, for heads of state in Washington and for celebrities around the world.
At the beginning of his culinary career, he apprenticed at the Michelin Star Restaurant in Glasgow, Malmaison, and then worked at the world-famous, five-star luxury hotel in Scotland, Gleneagles.
Upon immigrating to North America, John worked for the Four Seasons Hotel in Canada and the United States and his final stint in the hotel industry was at the King Edward Hotel in Toronto.
Read more
Now, John is the director of one of North America's best cooking schools, George Brown Chef School in Toronto. Since arriving in 2002, John has steered the school through a massive expansion due to an explosive demand in enrolment. With his Scottish brogue, keen wit and passion for teaching, John is leading the way for the next generation of talented chefs. He has travelled the world, from India to Italy and Sao Paulo, promoting Canadian cuisine. 
John has made many television appearances including, Food Network's At the Table With, he was also a guest judge on the first season of Top Chef Canada and one of the judges of Food Network's Chopped Canada. He has a long list of accolades, and was recently awarded the Glenfiddich Award for Chef of the Year by Trillium Chefs Canada and the Gold Award for Educator by the Ontario Hostelry Institute (OHI). He has been selected to be the President for the Bocuse d'Or Team Canada at the recently concluded Bocuse d'Or 2019 Competition in Lyon, France.  John has also been named a Global Scot by the First Ministry of Scotland.  In this era of celebrity chefs, he reminds his students that being a chef is hard work that requires passion and dedication.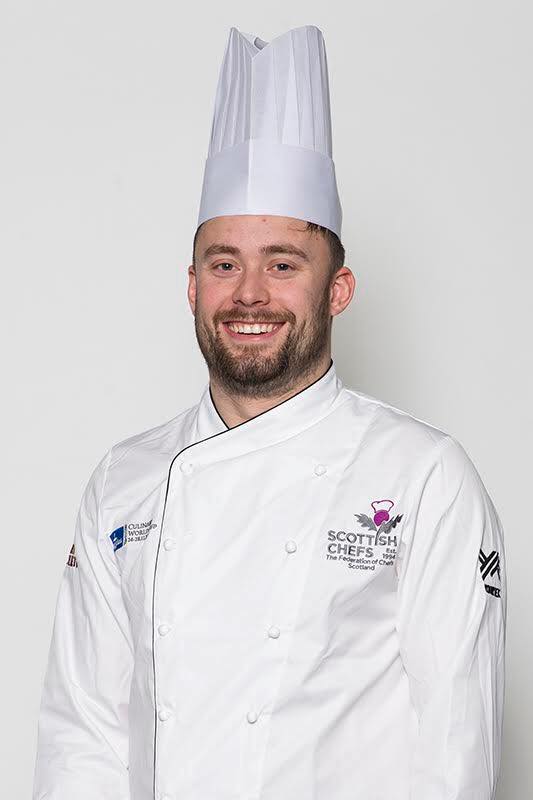 Orry Shand
At 29 years of age, Orry Shand is one of Scotland's most outstanding chefs of his generation, and a star of the future.
He is the current Scottish Chef of The Year which he won at the Scottish Culinary Championships 2019.
Read more
Orry has represented Scotland internationally at both the Culinary World Cup and IKA Culinary Olympics as captain of the Scottish Culinary Team, winning a Silver Medals in both 2016 and 2018.
In 2020 he will once again captain the team at the Culinary Olympics in Stuttgart Germany and later on in the year will compete in the Final of Global Chef at the Wolrdchefs Congress in St Petersburg, Russia.
Amongst his other successes are UK Game Chef of the Year, Seafood Chef of the Year and Young Chef of the Year on two occasions.
He is currently Head Chef at Entier Foodservices, Aberdeen where he is responsible for onshore production and events. Prior to that he has worked at the Michelin Star establishments No 1 Balmoral Hotel, Edinburgh and Restaurant Andrew Fairlie at Gleneagles Hotel.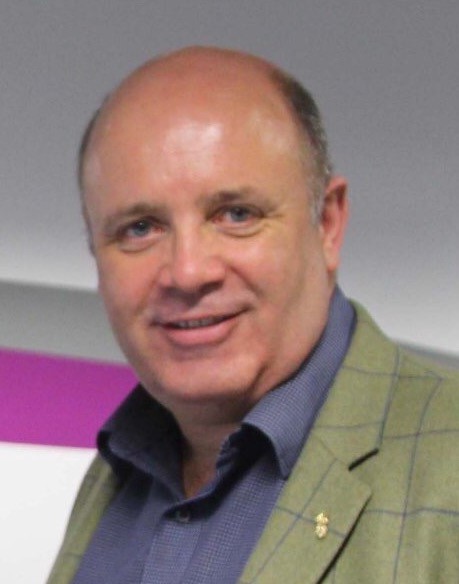 Marc Crothall
Appointed as the first CEO of the Scottish Tourism Alliance (STA) Marc has been at its helm since its inception in 2012.
He is responsible for the day to day operations and leadership of the organisation which is the overarching tourism industry trade body and acknowledged as being "The lead representative voice of Scotland's Tourism Industry".
Read more
The STA has under its umbrella of membership circa 70% of the c20,000 tourism facing business that operate length and breadth of the country. The organisation are lead strategic guardians and co-ordinators of Scotland's national tourism Strategy Tourism Scotland 2020 (TS2020). The STA are also the joint lead with sister trade body Scotland Food and Drink of Scotland's first Food Tourism Strategy and Marc chairs the National Food Tourism Leadership Board.
Marc is a member of the Tourism Leadership Group (TLG) that has shaped and now steers Tourism Scotland 2020 (TS2020), He chairs the strategy sub steering group that is charged with leading the development of the national tourism strategy action plan beyond TS2020. He is also the industry representative on the Scottish Government's High- Level Tourism Working Group (TWG) chaired by the Cabinet Secretary Fiona Hyslop MSP.
Marc also Chairs the STA Industry Council and is a member of the UK Government's Scottish Business Task Force,  is an advisory board member of Springboard Scotland, and a board member of Interface.
Prior to taking up his post with the STA Marc spent 35+ years working in the front line of the Hospitality, Event, Sport & Leisure industries across the globe for both large high profile multinational organisations such as Gilbey's (South Africa), Sheraton Hotels, Compass Group,   The Tussauds Group (now Merlin), Amadeus, Whitbread, David Lloyd Leisure and some leading medium and small rural hotel business' too.
He believes whole heartedly that "Tourism is Everyone's Business" and that providing great experiences, investing in people, technology and service quality are the essential ingredients to making Scotland's visitor economy thrive and prosper in the way it does.
His passion is rugby and he is a lover of all things Scottish, especially his Glaswegian wife, his five Scottish born children 27yrs to twins of 10 and the nation's food and drink. Although not born and educated in Scotland his family ancestry traces back though Clan Sinclair and despite his many years spent abroad he has lived, breathed and spent most of his working life in Scotland!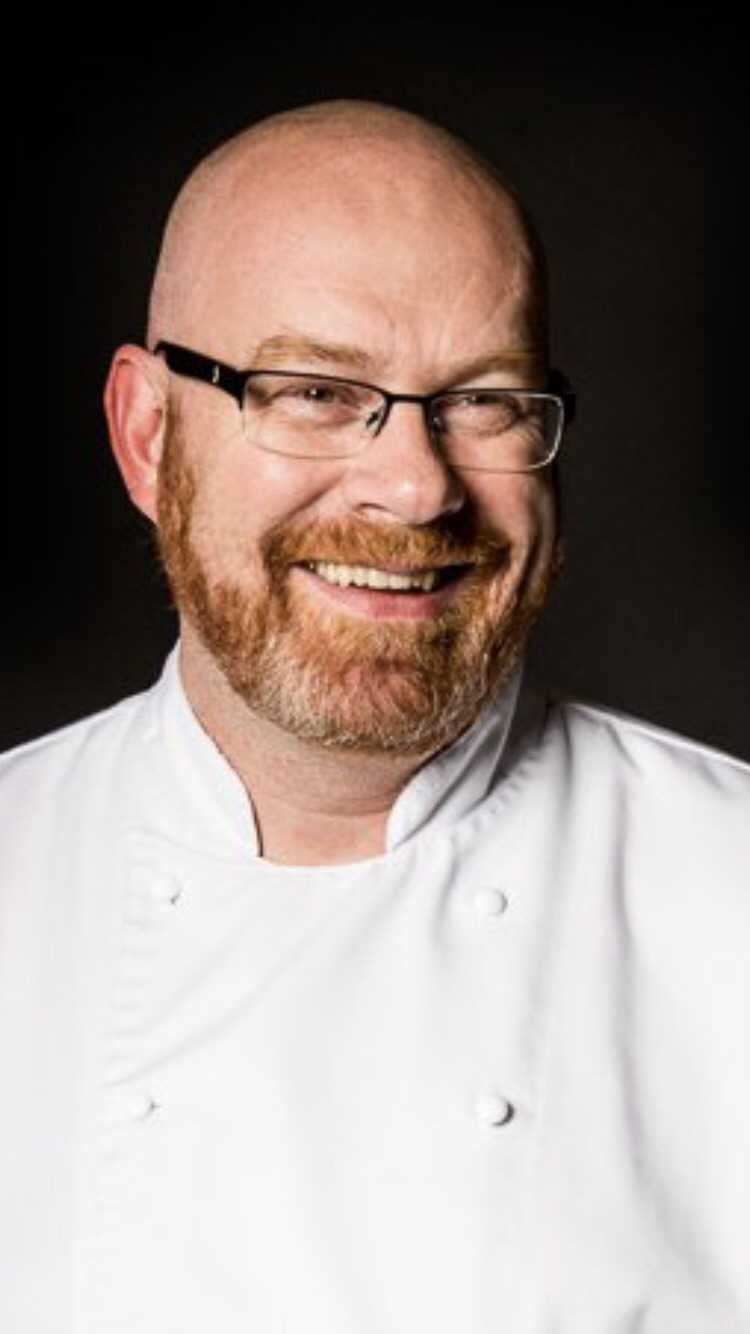 Simon Hulstone
Simon Hulstone (44) followed his award winning Chef father into the catering industry at the age of 15 and has never looked back.
In a career now reaching 25 years, Simon has become one of the UKs if not worlds most recognized chefs.
Read more
Competitions in his early culinary years were a major focus and Simon has gone onto compete and win almost every competition available to the craft including gold medals and world titles in France (world skills champion ) South Africa (culinary world champion ) Canada ( culinary team champion) and over 50 individual titles but not forgetting National chef of the year 2008 and the Roux Scholarship in 2003 both life changing awards.
In 2008 Simon was selected to compete in the Bocused'Or in Lyon France for the UK , the Bocuse d'Or is the worlds most recognized culinary competition and Simon competed for the next 4 years as British representative placing the highest any UK competitor has ever come.
In 2006 Simons restaurant The Elephant in Torquay was awarded a Michelin star and has retained this to this date as well as being in every major food guide and publication. Simon works closely with all his suppliers only buying the best of what is in season and working with the Restaurants 96 acre farm to devise menus all year round.
Simon has worked with the countries leading companies both on freelance consultant and ambassadorial roles and is currently working alongside such esteemed companies such as Seafood from Norway, British Airways, Electrolux , Santa Maria foodservice, Nestle Professional , AEG , Steelite , John Lewis, Jumeirah hotels, Ballymore and Kikkoman. Simon also does numerous private dinners in client's homes to their specifications all around the world.
Simon has become a regular on Saturday kitchen on BBC1 and has competed on the Great British menu. Simon also commits to regular Youtube cookery videos for the Staff Canteen channel.
One of Simons greatest honours was being selected by  British Airways in 2012 to devise menus for all airline classes alongside mentor Heston Blumenthal for the London Olympics , Simon became a BA great Briton and not only was his menu consumed by over 800,000 guests of BA Simon also cooked at the Royal opening ceremony at the Royal Albert hall in London for the Olympians and Royal family.
Simon is married to Katy and has three young daughters Tansy , Cicely and Betony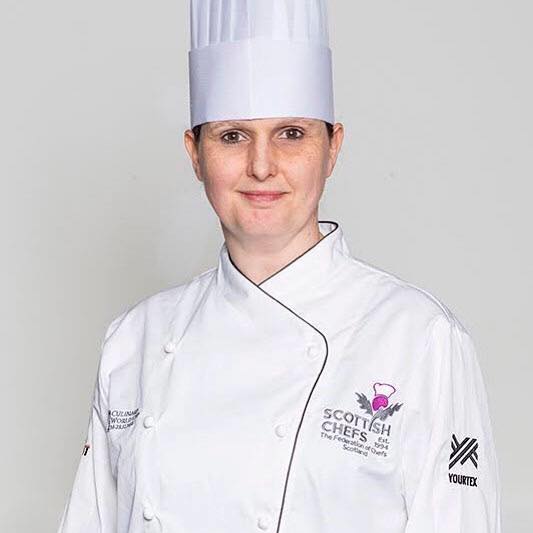 Shona Sutherland
Tasteful owner Shona Sutherland has been in the industry for many years.
She achieved an HND in Hotel, Catering and Institutional Management at Duncan of Jordanstone College, Dundee, but gravitated towards kitchen work which took her to kitchens of the Marine Hotel in North Berwick, the Crown Hotel in Scarborough and The Old England Hotel in Windermere.
She then progressed to Head Chef at 2 AA Rosette Nanny Brow Country House Hotel near Ambleside, and Le Lac Restaurant in Grasmere, both in the Lake District.
Read more
Following that, she spent 5 years in the Almería region of Spain, supplying desserts to two restaurants and pursuing an already established interest in cake decoration.
Shona's cake and chocolate work are award winning: in September 2014 she won the Chocolate Category at the Scottish Baking Awards. In November 2014 she won the National Chocolate Award for her Christmas Chocolate Wreath at the Perth Chocolate Festival and in March 2015 she got a gold medal and Best in Class for her Chocolate Showpiece at the Scottish Culinary Championships at ScotHot at the SECC in Glasgow. She added Gold and Silver medals to her collection at the 2017 Scottish Culinary Championships for her filled chocolates.
A member of the Scottish Culinary Team  Shona won a Bronze medal for her Chocolate Showpiece at EXPOGAST Luxembourg  and will compete in the 2020 Culinary Olympics in Stuttgart Germany.
Jacqueline O'Donnell
From a very early age I remember being sent out to my grannies garden to pull rhubarb or turn the soil for tatties or pick up any apples I thought this was all pretty hard work… I was 4 at the time!! My reward/payment for this hard earned labour was a stick of this crisp tart rhubarb with a wee pokey of sugar made from newspaper I am sure this is where my love of great home cooking using local produce all began.
Read more
Still rising to the challenges that the wonderful Scottish larder throws me, I never seem to tire of cooking fantastic produce from a country that so expertly grows, rears or cultivates. We have it all here from land, highlands & lowlands to our wonderful larder from the sea. I style my cooking on simple & Scottish and mostly allowing the produce to speak for itself or rather shout. Believe me it's not too difficult!
The Sisters Restaurants have been operating in Glasgow for the past 21years now with the Kelvingrove addition being only 14yrs Jordanhill is the longest serving to Customers & friend's Great Scottish fayre cooked simply.
I have ventured down a few different paths in the past 10yrs via television and radio & hosting food events, however always staying where I said my beliefs were, that's good honest Scottish cooking.
So from;
BBC2 Great British Menu 2 consecutive years through to the finals being the only female asked from Scotland in the show being shown for 10yrs
BBC Radio Scotland, Weekly Foodie chat slot on the The Fred MacAulay show for 4years
BBC John Beattie show News on Food items ongoing
STV 3 separate shows
Jak & Eddies Scottish Kitchen 60 episodes
Jaks Great outdoor menu 6 episodes
Jaks Festive menu 6 episodes
Tayside Annual foodie awards; Host
Aberdeen Angus world forum event in Scotland; Speaker
Scottish enterprise taking that step Speaker
Women in Business Scotland Annual event; Speaker
It sounds very glamourous but I'd rather be in my pinnie doing what I love.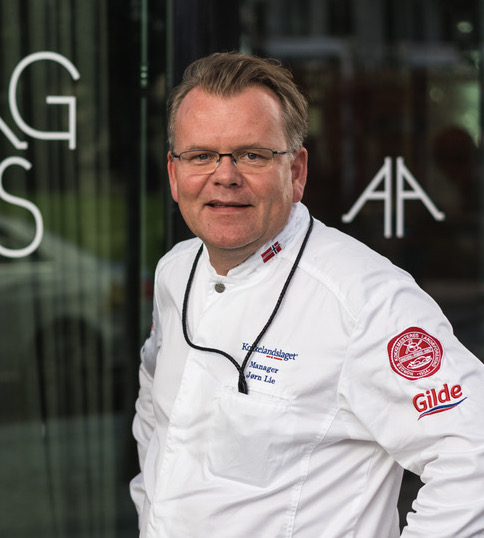 Jorn Lie
Today Jørn running two restaurants in Oslo named Vaaghals and Gamle Raadhus. He is born and raised in Oslo and did his apprentice time at the classic Grand Hotel back in the eighties.
His first move in his carrier was to work in Orlando Florida at the Epcot Centre in the Norwegian Pavillion for two years.
Read more
Then he moved up in the Mountains to work with Arne Brimi at Fossheim Hotel for two seasons. And moved back to Oslo and started as an head chef at Feinschmecker an 1 star Michelin restaurant where he stayed for 10 years.
In 1994 he joined the Norwegian Culinary Team and was a member and a captain until 2000.
They achieved and overall Bronze in the IKA Culinary Olympics in 1996 and an overall Silver in 2000. After 2000 he has been one of Norway's A-level judges. And been a judge in several competitions. Since 2016 he has been the Manager for the Junior and Senior National teams.
They both got back from Expo Gast in Luxemburg with an overall bronze.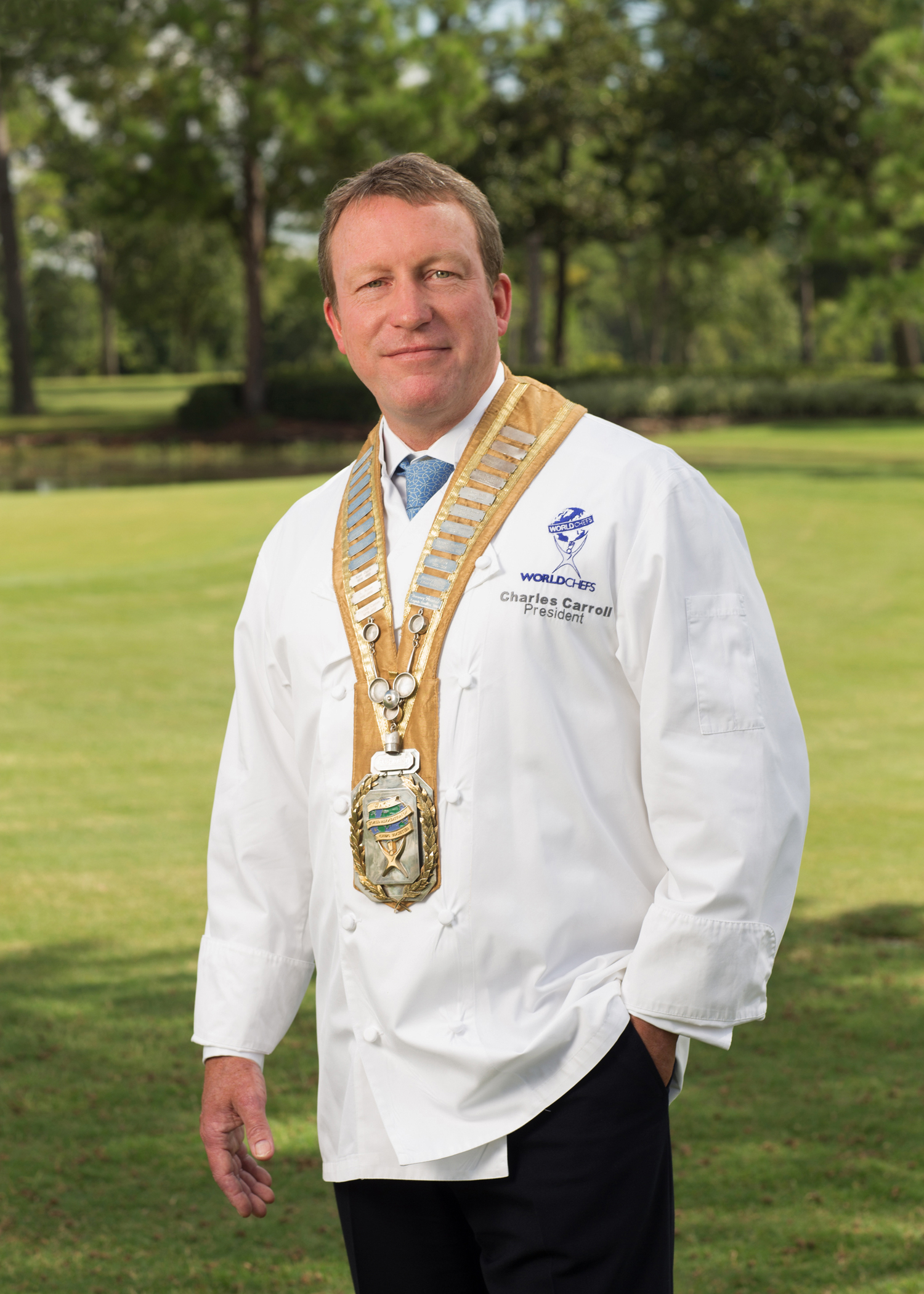 Charles Carroll
Chef Charles Carroll is an award-winning chef who travels the world speaking on championship thinking and personal greatness. The past President Worldchefs – Association of Chefs he's been lauded by five U.S. presidents for his work with U.S. troops abroad.
A luminary of the Culinary Olympics held every four years in Germany, he is currently the executive chef of Houston's prestigious River Oaks Country Club.
Read more
Honours and Accomplishments:
Served on eight United States Culinary Olympic National Teams.
Chef of the Year (1988, 2005)
ACF President's Medallion (1989, 1999, 2005 and 2014)
James Beard Foundation – one of the Great Country Inn Chefs (1993)
Educator of the Year by the ACFEI (1993)
Central Regional "Good Taste Award" (2006)
World Master Chefs Association (member- 2000)
American Academy of Chefs (member- 2001)
Confrerie de la Chaine des Rotisseurs (member- 2002)
Distinguished Visiting Author Award – Johnson and Wales
Lifetime Achievement Award- Cordon d' Or
Crystal Icon Award – International Special Events Society
Ambassador- Culinary Institute of America (CIA)
World Association of Chefs Societies President (2016)
Operation H.O.T.:
One of Chef Carroll's proudest moments was creating and producing "Operation HOT" (Honouring Our Troops) in 2011 and again in 2013. Chef Carroll put together a team of 21 celebrities and support team, raised $450,000, assembled 30,000 pounds of show gear, produced a total of 8 shows (2 Vegas-style), and fed 8,000 troops a home-cooked meal in the middle of a war zone in Afghanistan. For his collective efforts in organizing these events, Chef Carroll was recognized by 5 past U.S. presidents and invited to a reception at the White House. In September of 2013 he was presented with the Honourable Order of Saint Martin Award, given to him by the U.S. Army for his significant contributions to soldiers based in the Middle East.
Books:
The Recipe: a Story of Loss, Love and the Ingredients of Greatness
Leadership Lessons from a Chef: Finding Time to be Great
Tasting Success: Your Guide to Becoming a Professional Chef
Podcast:
The Recipe Podcast: Celebrity Secrets to a Successful Life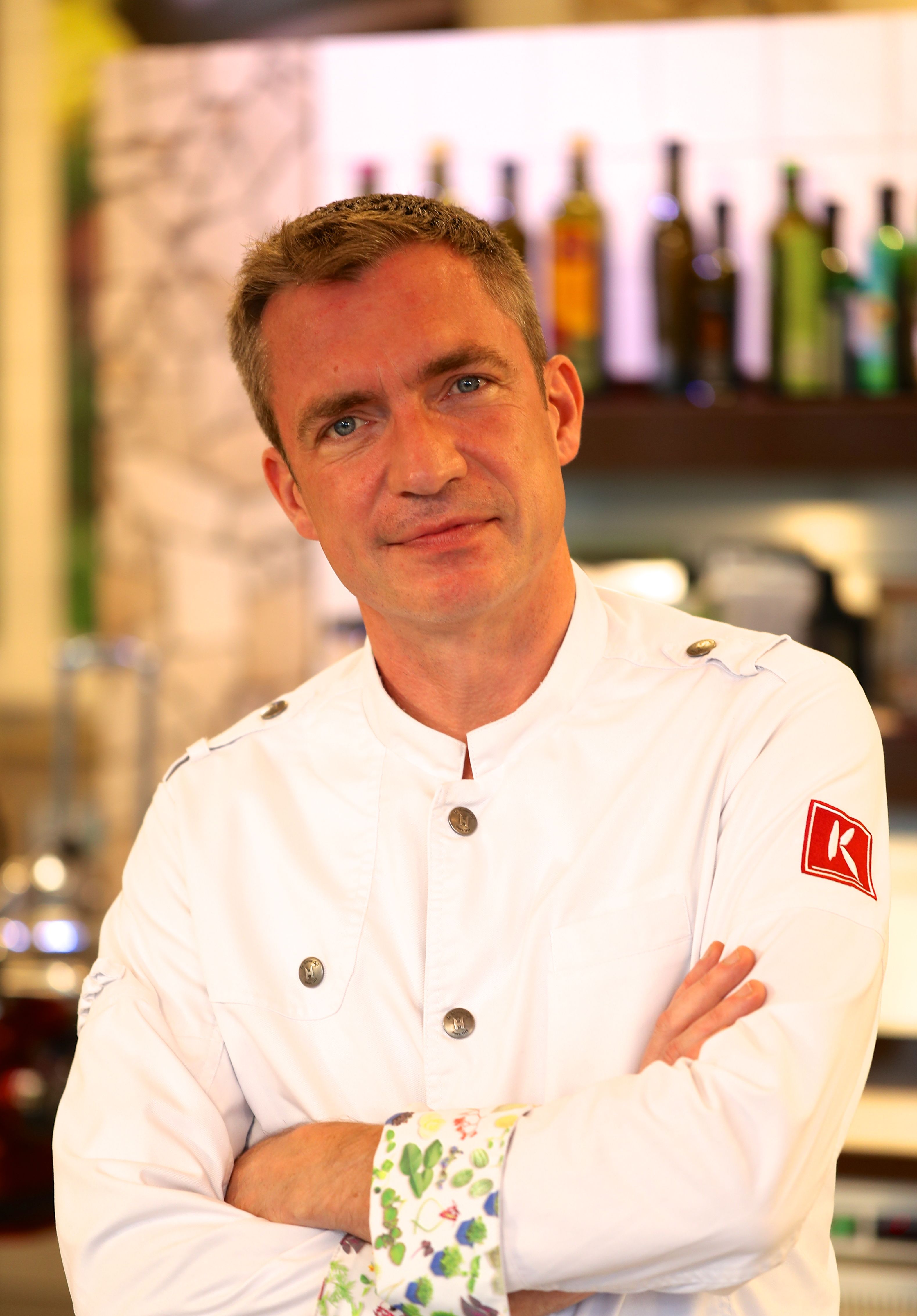 Franck Pontais
Business Development Manager, UK, Ireland and Middle East, Koppert Cress
For over twenty years, Franck has been creating the finest gastronomic experiences for celebrities, large corporations and small groups of friends and family. Trained in the French tradition of Traiteur (high class delicatessen), Franck has introduced to the UK the term "Verrines" – gourmet food beautifully presented in individual glasses. He is based in the beautiful area of Norfolk and would travel anywhere to meet you!
Read more
Born in Paris, Franck began his career aged 14 as a butcher's apprentice. Two years later, he integrated prestigious Parisian culinary school CEPROC where he quickly progressed and gained considerable work.
Aged 22, Franck was head hunted by Harrods to expand their delicatessen counter. He joined Selfridges six years later where he launched their delicatessen counters in both London and Manchester.
Franck then moved to Rhubarb Food Design, catering in VIP Rooms at exclusive events and at the homes of many "A list" celebrities. 
In 2005, Franck decided to set up his own catering and events company specialising in tailor-made menus for exclusive corporate and private events as well as fine dining and boutique delicatessen food. Since then, Franck's published his first book and started undertaking major consultancy work for international corporations.