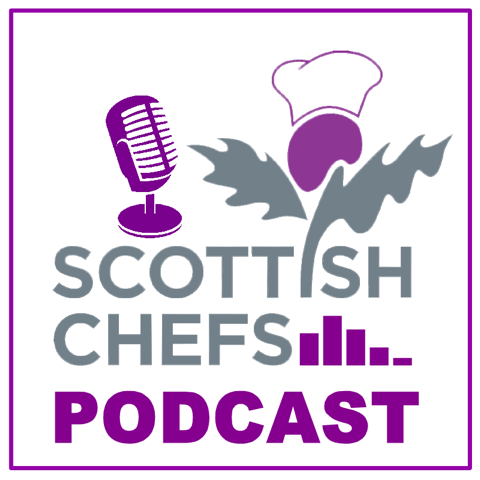 The first dedicated UK chefs podcast covering a range of topics including interviews with some of Scotland's finest chefs, industry leaders and international guests in addition to covering culinary events throughout the year.
Produced by award winning chef and author Charles Carroll of MyCompany Radio
Patron / Segment Sponsors:
EPISODE 37 – Gary Maclean 'Scotland's National Chef'
Gary McLean is one of Scotland's most well-known chefs & past winner of BBC's Masterchef: The Professionals. He is also Scotland's First National Chef and has a wealth of experience and knowledge which he now imparts to his students at City of Glasgow College. Jak speaks to him about his life and passion as a chef.
EPISODE 36 – Helen Vass 'The Pastry Magician'
Helen Vass has been called a 'Pastry Magician'. She is recipient of the Les Dames d'Escoffier legacy award, CIS Callebaut patisserie chef of the year & winner of BBC Bake off Creme de la Creme. In discussion with Jak she explains all about her passion for pastry and speaks of some of great Pastry Chefs who have influenced her over her career.
EPISODE 35 – The Andrew Fairlie Scholarship – Amy Stephenson & Josh Wilkinson
The Andrew Fairlie Scholarship was established in 2019 in tribute to the life of Andrew Fairlie Scotland's only 2 Michelin Star Chef. Andrew was the first recipient of the Roux Scholarship. The Andrew Fairlie Scholarship offers a young male and female chef a once in a lifetime opportunity for an international stage and placement at the Culinary Institute of America. Here Jak talks to the 2 latest winners.
EPISODE 34 – Gary Townsend
Gary Townsend is Head Chef at one of Glasgow's iconic Boutique Hotels One Devonshire Gardens and was recently a finalist in the National Chef of The Year. Jak O'Donnell speaks to Gary about his career and the challenges of managing the kitchen and maintaining the reputation of one of the city's favourite dining venues.
EPISODE 33 – International Chefs Day
International Chefs Day was established by the Chef Dr Bill Gallagher in 2004, it is celebrated across the globe in October each year. As part of this year's event Jak visited West College Scotland to speak with some students from over 40 representing schools and also the chefs from the industry who participated in the 2021 event.
EPISODE 32 – Derek Johnstone 'The first BBC Masterchef Professional'
Derek Johnstone was the inaugural winner of BBC Masterchef The Professionals. He has been twice Runner Up in the National Chef of The Year and also won a Silver Medal Winner at the Culinary Olympics in Stuttgart 2020. He is currently Executive Chef at Rusacks Hotel St Andrews where he oversees the operation of 3 restaurants.
EPISODE 31 – Simon Hulstone 'Going for Gold'
Simon Hulstone is one of the most acclaimed chefs in the UK, he has represented the UK in the Bocuse d'Or on four occasions and is a past winner of The Roux Scholarship and National Chef of the Year. Now Chef Patron of Michelin Star The Elephant in Torquay he discusses with Jak his enthusiasm for competition and how it prepared him for a successful career.
EPISODE 30 – Jo Campbell 'The Secret Garden'
The Secret Garden is located somewhere in the Perthshire countryside and provides produce for Scotland's only 2 Michelin Star restaurant Restaurant Andrew Fairlie at Gleneagles Hotel. Jak O'Donnell spends some time with Head Gardener Jo Campbell to discover it's secrets.
EPISODE 29 – William Curley 'Master Chocolatier'
William Curley is a Scottish Patissier and Chocolatier, he has won The Academy of Chocolate 'Britain's Best Chocolatier 'on four occasions . He has his own company in London and is the author of many books. His products can be found in some of the world's finest stores. He speaks to Jak about his passion and love of his craft.
EPISODE 28 – Gordon MacGregor 'A Scot Down Under'
Gordon MacGregor was one of the most talented young chefs of his generation winning numerous accolades and awards for his cooking both individually and also with the Scottish Culinary Team. Gordon worked in many of the finest kitchens in Scotland including Restaurant Andrew Fairlie. In 2013 he left to carve out a new life in Brisbane, Australia where he now owns his own company. He speaks to Jak all about his career and life Down Under.
EPISODE 27 – Seumas MacInnes 'Café Gandolfi, a Glasgow Icon'
Cafe Gandolfi is one of the most iconic and stylish Café/Restaurants in Glasgow. Seumas MacInnes tells the story about his journey from kitchen porter to Chef Patron of this award-winning establishment.
EPISODE 26 – Charles Carroll – 'The Recipe'
Multi Award Winning Chef and Author, Charles Carroll speaks with Jak O'Donnell about his career and gives an insight into how he inspires and motivates the chefs of the future. He also talks about his role as Executive Chef at River Oaks Country Club, Houston, Texas and being appointed President of Worldchefs.
EPISODE 25 – 'The Story of Valvona & Crolla''
Mary Contini OBE is a best-selling author of numerous books involving food and the co-owner of the award-winning shop and restaurant Valvona & Crolla, Scotland's oldest delicatessen and Italian wine merchant. Listen to Jak O'Donnell in conversation with her about her life and career.
EPISODE 24 – 'The Gleneagles Experience''
Simon Attridge is Executive Chef at the world-famous Gleneagles Hotel. In this interview Simon gives an insight into the challenge of maintaining the highest culinary standards across a range of restaurants in the resort.
EPISODE 23 – 'Scottish Culinary Canadian Star'
John Higgins originally from Bellshill in Lanarkshire emigrated to Canada over 30 years ago after a successful career in the UK. John became Executive Chef at the world-famous King Edward Hotel, Toronto before going into education at George Brown College. He speaks with Jak about his experience working at Buckingham Palace and his move to Canada where he has become a leading culinary personality.
EPISODE 22 – 'Pillar of Success'
Adam Handling at the age of 32 is the owner of The Adam Handling Group encompassing 5 restaurants across London. The winner of numerous awards speaks with Jak about his passion and love of cooking.
EPISODE 21 – From Nature to Plate
Tom Kitchin, the youngest ever winner of a Michelin Star, discusses with Jak his philosophy in cooking and the training he received from two of the world's greatest chefs Alain Ducasse and Pierre Koffman.
EPISODE 20 – "Don't tell him Pike"
Willie Pike is one of Scotland's most admired chefs with unique skills and talent. He speaks with Jak about his career and the many awards he has achieved.
EPISODE 19 – Scotland's Future Talent
Young chefs Sophie Taylor and Shannon McNeill discuss with Jak their experiences representing Scotland in the Nations Cup in the USA and winning acclaim for their skills and talent.
EPISODE 18 – Michel Roux Jr
An exclusive interview with the new Patron of Scottish Chefs, Michel Roux Jnr, Chef Michel in conversation with Jak on being a member of one of the world's most famous culinary families and memories of his father Chef Albert Roux.
EPISODE 17 – A Day in the Life of a Master Chocolatier
Ruth Hinks, World Chocolatier Master in conversation with Jak O'Donnell about her journey from Australia to Scotland and establishing her Chocolate School in the Borders town of Peebles.
EPISODE 16 – Scottish Chef and Scottish Young Chef of the Year Finals
Jak O'Donnell reports from the final of this year's Scottish Chef and Young Chef of The Year, with interviews with competitors and the judging panel.
EPISODE 15 – Charity begins at home
David Cochrane of HIT Scotland and Gordon McIntyre of Hospitality Health discuss the work of their respective charities and the impact the work of the charity has had on people's lives.
EPISODE 14 – The rise of the Isle of Skye as a culinary centre in Scotland
Chefs Michael Smith and Calum Montgomery discuss the growth of fine dining restaurants on Isle of Skye and how they have contributed to putting the area on the Culinary Map of Scotland.
EPISODE 13 – Another 'Star 'on the Horizon
Chef Graeme Cheevers discusses his hopes and ambitions of bringing another Michelin Star to Glasgow at his new solo restaurant venture Unalome.
EPISODE 12 – The Realisation of a Culinary Dream
Award winning chef Lorna McNee in discussion about her career, the influence of mentor Andrew Fairlie and the achievement of attaining a Michelin Star for Cail Bruich, Glasgow bringing a Michelin Award back to the city after a gap of 17 years.
EPISODE 11 – Culinary Auld Alliance
Chef Neil Borthwick discusses his career and how he overcame adversity from a serious road accident to becoming an award-winning chef in London. Neil is also joined during the interview by his wife and well-known chef Angela Hartnett. 

This Episode is sponsored by Quality Meat Scotland
EPISODE 10 – The rise of the Scottish artisan bakers
Jamie Scott of the Newport Bakery, Newport on Tay and Darcie Maher of The Riverside Bakehouse, Duns discuss the growth of artisan bakers and the trends in the industry.
EPISODE 9 – Diversification – how chefs have overcome the challenge of 2020
Dean Banks, Patron of Harr St Andrews, Scott Smith, Patron of Fhior Edinburgh and Stewart Pearson, Patron of The Lobster Man North Berwick in discussion with Jak O'Donnell on how through diversification they have created a new business opportunity following the onset of Covid-19.
This episode is sponsored by Dunns Food and Drink and also includes an interview with Kevin Shand and Ross Love of Dunns Food and Drink
EPISODE 8 – The Power of the White Jacket
Thomas Gugler, President of World Chefs and Cornelia Volino, Secretary General discuss the work and initiatives of the World's Global Authority on Cooking, World Chefs.
EPISODE 7 – The TRUE price of fish – what is the cost?
Discussion with Jim Cowie of The Captain's Galley, Scrabster and Alan Addison, skipper of one of the most modern trawlers in the UK fishing fleet. Jim and Alan talk about their passion for seafood and the real cost of bringing fish to the plate.
This episode is sponsored by Seafood Scotland
EPISODE 6 – From London's city lights to the fairy pools of Skye
Shirley Spear, founder of the Three Chimneys Restaurant, Isle of Skye in conversation with Jak O'Donnell on the story of the family's move from London to establish one of the highest ranking World Top 50 restaurants.
Also includes an interview with Sandy Thomasson, Sales Director Scotland and Ireland for Rational UK
EPISODE 5 – PRIDE & PASSION OF SCOTLAND'S LARDER
Find out what it is like to run 60 sites throughout the West Coast of Scotland & produce approximately 11 million salmon a year. Hear all about the labour of love and huge financial investment it to develop the Native Hebridean Salmon.
With contributions from Graham Mitchell, (Scottish Culinary Team Manager) and David Taylor (Hebridean Salmon Farm).
This programme is sponsored by The Scottish Salmon Company.
EPISODE 4 – FINE DINING 11 MILES FROM SPACE ON CONCORDE
Jerry Smith, BA Cabin Services Director, discusses his career, training & serving some of the most famous people in the world at Mach 2.
He talks us through his journey from selling gloves and curtains at the family market in Glasgow at  'The Barras' to becoming the youngest appointed Cabin Services Director with British Airways. This is a story which should inspire any young person considering a career with a global airline.
EPISODE 3 – LEGENDS OF THE KITCHEN
Three of Scotland's kitchen legends Bruce Sangster, Billy Campbell & Stewart Cameron speak about their careers with some fascinating memories & stories from the last 50 years in the industry.
EPISODE 2 – WORKING FOR THE MOST POWERFUL MAN IN THE WORLD
Ralph Porciani speaks about his journey from working in the family Fish and Chip Restaurant to being appointed General Manager of Trump Turnberry Resort and what it like having the US President as your boss.
EPISODE 1 – ANDREW FAIRLIE – HIS LIFE & LEGACY
Jak O'Donnell speaks with Kate Fairlie, Steve Mclaughlin and Dale Dewsbury about the life of Andrew Fairlie. The programme covers the establishment of Restaurant Andrew Fairlie at Gleneagles Hotel and the guests speak emotionally about their love and admiration of Scotland's finest chef, their hopes for the future and The Andrew Fairlie Scholarship. There is also a special interview with Chef Albert Roux OBE KFO who discusses Andrew's unique talent and reminisces about him becoming the first Roux Scholarship winner.
This programme is sponsored by Albert Bartlett.