Blesma Online Chocolate Workshops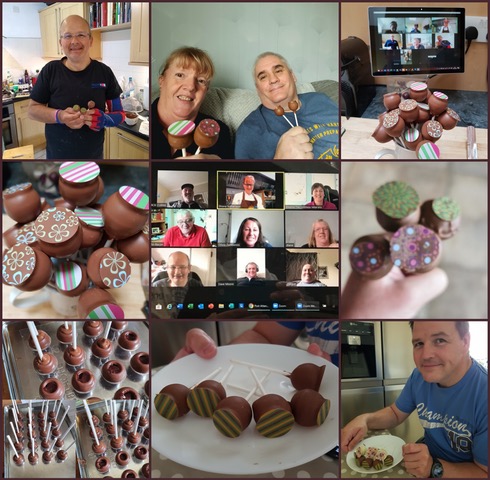 Blesma Online Chocolate Workshops 
by Shona Sutherland, owner of Taystful Blairgowrie, and member of the Scottish Culinary Team.
One of our board members Shona Sutherland was delighted to be able to offer some chocolate
making events for the Military Charity Blesma recently, thanks to Chef Jamie Reid initiating the idea via Scottish Chefs.
First of all, the Blesma Scotland linked up online, and Shona demonstrated casting moulds, making ganache, filling and finishing the chocolates. This led on to organising some workshops which the participants could do at home, while Shona led them through the process.
The specialist ingredients were sent out in packages to each person in advance so they could make the delicious truffle pops! Everyone had a great time making them… and eating them of course!
Another online session with Blesma Northern Ireland followed more recently. Shona says "it was great to meet another lovely group of keen chocolate lovers! As you can see from all the pictures, they did a fab job!"
She continues "the icing on the cake (excuse the pun) was being asked to judge the Blesma cake
making competition. I received a collection of photos from all the participants, a lot of work had gone in to them, they all looked very tasty, it was very hard to judge! Well done to all involved! I look forward to linking up with the groups again, we may even get a face to face workshop one day!"
Great job Shona!
Blesma is the only national service charity that supports limbless veterans for the duration of their
lives, offering financial and emotional support to them and their families.